12/31/06 -Sunday: NEW YEARS EVE!!!
Man, as always, this year has flown by really fast. So, I started off the day by going to church. Afterwards, I went over to the apartment of one of my best friends. Him and his girlfriend got a new apartment a few months ago, and I had never been there before, so I figured it was about time:)

After spending a few hours over there, I came home and got ready to go out with my girlfriend and another couple to some new restaurant in our mall, called Houlihan's. Afterwards, we all came back to my house, and watched the ball drop.

All in all, nothing too spectactular... Till tomorrow...
12/30/06 -Saturday: SOME ANSWERS FROM THE COMMUNITY...
So, the last part of yesterday's update consisted of me asking if people would really object to the idea of skipping Chapter 3 for the next Chapter, which takes place 20 years later.

I expected to get some hate mail and the like, but every person that got back to me told me to go for it. I was really, really surprised:) Now, I obviously won't be making the decision tonight, or anything like that, but it is still good to know there are some people on my side.

To be fair though, I am not giving up on the idea of doing Chapter 3 quite yet. I do have some plans to determine the feasibility of it.
First and foremost, I need to compile a report of all the CC available with NWN2, to be sure I can even replicate Chapters 1 & 2. I mean, the Dungeon of Summons had a very unique look, with the different colored crystals and all. Does NWN2 have this? Hell if I know... Will NWN2 have the same face models, so I can have Auden appear with the face mask? Will it have a shadowed hood for Clopon and Kain? What about Clopon's aqua constituents? Will there be models for them?
Now, I know some people out there will say that I can just find people from the CC community to do it for me. That may be true, but first, I need to at least if it is needed. So, the plan is to first take every area from the first 2 chapters, and make sure they can be replicated somehow in NWN2. Then, I will go through every special item (i.e. Sword of Galladoran) and make sure there are similiar models. From there, I will go through every creature, and make sure I can reproduce them. I have a bad feeling about that:( I'm sure there is something I am missing, but I will deal with that when it comes up.
So, as you can see, I have a ton of work ahead of me, and it isn't like I will be doing it everyday. I expect it to take at least a month or so, especially with the other things going on in life and at work. Speaking of work, I have been showing my worth lately, and I continue to make that push to move up the "corporate ladder". Yeah, I am not going to be in this field the rest of my life, but why not at least make the most of it? Extra money never killed anyone:)
Oh, and I have a little secret *looks both ways*. I am really getting that itch to do some building. I was chatting with Hugie the other day, and I was getting jealous of how much fun he was having creating his newest mod series, The Lynncairen Saga. Oh, before I forget, he released a teaser for the new series, called A Taste of Lynncair. If you do everything, you may get an hour of gameplay out of it. Regardless, it is a very nice taste of things to come. I'm especially proud of the fact that the game is taking on a more console style feeling to it, as you are forced to used a new custom class, called an Adventurer. Plus, there is CC oozing all over the place, topped off with very nice cut-scenes. In other words, download it now, and support the authors who are still making NWN1 games!
Okay, I got off track, but yeah, I have the itch again:( I will try to fight it off for as long as possible, but I do not know how long I will survive... I'm already up to at least 20 new tracks for Chapter 3 (this is all from brainstorming while listening to said music), and a whole bunch for the game that takes place 20 years later. In other words, I have to implement all these ideas before I go mad!
Till tomorrow...
EDIT - Another plea to anyone reading this... If anyone can point me in the right direction so I can download the soundtrack to "Battle Arena Toshiden 1", please let me know. A more important track I am still looking for is, "H. Kobayashi & F. Kumatani - Can still see the light [4:43] - Phantasy Star Online". The first few minutes of this song could be something I will use with the Keeper of the Rose in the future. The main reason I have had such a hard time finding this piece is because there are 2 versions of it. One is just an instrumental, the other one (which I am looking for) has a woman harmonizing in the beginning of it. So, I beg of anyone reading this, if you have this piece, or know where I can find it, let me know. I will forever be in your debt:)
12/29/06 -Friday: WHERE TO GO FROM HERE...
So, Rose of Eternity - Chapter 2 - Cry The Beloved has been out for a little over 2 months. Obviously, these have been the best times of my life in about 3 years. Ah, the freedom:) I love it! No crazy deadlines, no custom abilities to implement, no doubts about how people will receive my games.

Unfortunately, it will be over soon:( At some point, I have to get back to doing what it is I do. I do have some things lined up in the near future that aren't Rose of Eternity related (I obviously cannot talk about it), but at some point, even that stuff will be done. The thought that has been going through my mind ever since the day I release CTB was, "What happens to Rose Of Eternity now?"
To be honest... Hell if I know... I mean, it kills me so much, because I wish I could just continue it with NWN1, but I know damn well that it will take at least another 15 months to complete, and I fear in 2008, NWN1 will be dead.
Why 15 months, you ask? Simple... Without a shred of doubt, Chapter 3 has to be to Chapter 2 as Chapter 2 was to Chapter 1. More specifically, it has to top Chapter 2 in every way. I'm not just going to release a safe game just because I have a fanbase now. I need to really build upon what I did in Chapter 2, and give people that same "wow" feeling they got before.
But, the problem isn't the actual ideas. Hell, I have a ton of ideas of what I can do to expand on everything. Trust me, I brainstorm them everyday, especially when listening to music. I already have ideas to make the Passive Ability system more dyanmic. I already know how I am going to expand the Bonds of Battle system to include other combinations, besides just Aramus and X party member. I already have ideas on some new Distintive Development abilities the player will be able to spend points on. With the new companion system of NWN2, I already know I can finally implement those Unison Abilities that don't include Aramus. Not to mention the actual story, the driving force of the game. All of that stuff is relatively easy.
The hard part is the amount of time it is going to take me to implement it. One thing I have already decided is the fact that I am not going to kill myself like I did with my last game. Granted, I was trying to get the game out before NWN2 came out (even though it hasn't affect DL's like I thought it would; that's another subject for another day) last time. This time, I will take my time, and more importantly, keep my sanity.
So, forgetting about the new Unison Abilities using the NWN2 companion system, all of that stuff will still take a lot of time... It sucks, but it is the truth... So, that is basically what is pushing me towards NWN2. Now, there are cons with working with NWN2, #1 being that I may have to re-do the entire series from scratch *shudder*. Man, just thinking about it pisses me off.
I think the best thing for me to do is to just continue the job of porting all scripts over to NWN2, and making sure all my custom systems work. Regardless of where I start the series off, they will have to be implemented, so I might as well get it over with. Maybe once I am more comfortable with it, I may change my attitude on re-doing everything...
Finally, just wanted to throw a bone out there for everyone. Feel free to send hate mail to gamecoder@optonline.net if you disagree with what I am about to say... How would people feel if I moved a couple chapters ahead in the timeline of Rose of Eternity. Chapter 3 takes place directly after Chapter 2, but Chapter 4 actually takes place 20 years later. It would be a somewhat fresh start to the series for newbies, while staying in same overarching story that has been laid out with the 1st 2 chapters.
Now, I am damn well what people would think about this, but I'm actually curious to hear the thoughts nonetheless. Just for the record, I am not saying I am going to do this. Just want to feel everyone out. Just think about it...
Till tomorrow...
12/28/06 -Thursday: FREAKING WIKIPEDIA...
This thing is really sucking the life out of me... Seriously... Anytime I need to know something about some subject, I can go there, and 99% of the time, I find something. Just amazing.

So, as I mentioned before, I have every DVD box set of The Simpsons that has been released. Anyway, I was curious, and checked out what they had on the subject. Well, check it out for yourself. There is so much useless information, it is crazy. Well, not that useless, considering the fact that I stayed up until 4:30 am reading it:) Yep, I have a bug problem...

Till tomorrow...
12/27/06 -Wednesday: DAMN THAT NINTENDO Wii!
So, I went to one of my old friend's new house today. It's nice to see people I grew up with (I met him in 3rd grade in 1988) make it in life, get new houses and whatnot.

Anyway, after checking out the new house, we got into this new game for the Wii, which was essentially just full of mini-games. Man, I gotta give it to Nintendo. When they said they are not marketing their system to the same crowd as Sony and Microsoft, they weren't kidding. Some of these games are really things that I could see my grandmother picking up and playing. I really think it will succeed.
So, why don't I have a Wii yet, you ask? Simple... I need to beat Final Fantasy XII first! Speaking of which, I may just try to put in like 8 hours tomorrow. Can't be too much longer. I'm almost 40 hours in, and I haven't done any side quests... Just a little more...
Till tomorrow...
P.S. Here's hoping that I can actually update these daily from now on, if not for any other reason, so they are more interesting:)
12/26/06 -Tuesday: NOT MUCH TODAY...
Didn't do much today. Surfed the net, setup the wireless internet for my girlfriend's new Mac Book, and slept alot.

My Father got me a new printer for Christmas, so I ended up hooking that up as well. Well, since I didn't have a USB cable for it, I had to run down to Staples, but it wasn't that bad, since I had other things to do as well.

Little by little, my desktop is turning into more of a viable workstation. Remember, I have been using my laptop for the past 2 years. But, now that I have a better rig, a new printer, a wireless network card, and possibly a new monitor, things may be shifting a bit.
I expect to be doing the majority of my game development on this machine in the coming months, if not weeks. For NWN2, I will definitely be expecting to go dual monitor. Heh, unless I get that DELL 30" widescreen:) Well, I can wish!
Till tomorrow...
12/25/06 -Monday: MERRY CHRISTMAS INDEED
So, today was quite fun. Among other gifts, I received ALL the released seasons of the Simpsons DVD box set. Not sure if I ever mentioned it, but I am a big Simpsons fan, and I have been talking about starting my DVD collection for some time now, so you can obviously imagine how good it felt to get them.

I also received a new bike, to replace the one that was stolen from me back in 1993 when I was in 8th grade:( Okay, so yeah, it's 13 years late, but better late then never:) Seriously though, I have been exercising again, so this will be perfect. Will be great to ride a bike around the ole neighborhood. Heh, maybe I will come up with some game ideas in the process:)
My girlfriend was quite happy to open up the new MacBook I bought her. Remember that trip I took out to Connecticut? Yep, it was to go to an Apple store. She had been asking for one for the longest time, and I was successfully able to make her believe she wasn't going to get one. So, you can imagine the look on her face when she opened it. Just classic. Um, besides that, just the normal holiday stuff. All in all, a good day.
Till tomorrow...
12/24/06 -Sunday: BORING UPDATES...
Yeah, I know, these updates have been boring lately. The main reason is that I have been so occupied by other things, that I write 7 at one time once a week, trying to remember what I did the previous week:)

I am usually good at memorizing the smaller things, but when it comes to the more inspiring things, I simply cannot remember. Without a doubt, when I do these things daily, I can remember everything that I would have liked to talk about. Now, I could go on and say they will continue to be daily from now on (how many times have I said that? :) ), but since I am on vacation, it just doesn't seem like something that will happen... We'll see...

Till tomorrow...
12/23/06 - Saturday: GAH, NO MORE SHOPPING!!!
For whatever reason this year, I have not been in the mood to shop at all. Well, I knew today would be the day I had to finish up the little bit of shopping my girlfriend couldn't do for me (how lazy am I!).

So, I got enough energy to go to the mall, and just knocked out everything as soon as possible. I was very efficient, and got out of there in about 1 hour.

When I got home, I was able to sleep well, knowing I didn't have to do anymore shopping for a long, long time. How pathetic am I? :)

Till tomorrow...
12/22/06 - Friday: AND SO BEGINGS MY VACATION...
Well, my official vacation started today, and I do not have to go back to work until January 2nd. After everything I had been through in the past 2 months, I was just happy to be able to get some decent amounts of sleep.

In fact, I didn't even get up 1:00 pm or so today, and then when I was up, I just lounged around, surfing the internet, and playing a little Final Fantasy XII... Yeah, still playing that damn game... Gonna finish it eventually... Besides that, I didn't do much of anything else, and that was just fine with me:)

Till tomorrow...
12/21/06 - Thursday: TO CONNECTICUT I GO...
So, as usual, I worked from home today. Since finishing up the work on Mapquest Mobile yesterday, there wasn't really much for me to do, so I really looked at it as a day off.

The majority of the work I did centered around me having to drive out to Connecticut to pick up my girlfriend's Christmas present (I am actually writing this update on 12/28/06, so no one needs to worry about me spoiling anything for her). She actually had no idea I was doing it, so I had to be very secretive, making sure to go when I knew she would be working, and whatnot. Luckily, Connecticut is about 45 min away, so it was still better than commuting to work:)

Till tomorrow...
12/20/06 - Wednesday: I'M FREE!!!
Well, after months and months of development, Mapquest Mobile 2.5 is finally live. I gotta tell you, it was one hell of a ride. Between trying to release Cry The Beloved and dealing with a Product Manager who clearly has people skill issues, I am lucky to have gotten out of it alive.

Being the lead on the project, I was up at 4:00 am to make it to the office around 7:00 am to be on hand for the release, in case anything wrong happened. Luckily, everything was 100% perfect. No flaws, no anything. Now, I can breathe.... Until the next project:)

Till tomorrow...
12/19/06 - Tuesday: OFFICE POLITICS...
So, the longer I am in this field, the more I learn about the office politics. You know, the stuff you hear about, see in movies, and read about in Dilbert? Yep, it's all damn true.

All the backstabbing I see, people trying to work their way up the corporate ladder, by stepping on their peers, is freaking crazy. Sometimes, I honestly don't know who to trust. I mean, I can trust people from my team, but it seems like everyone else has a secret agenda.

Heh, I guess I should have stayed a Junior Engineer, where I didn't have to be involved in these things...
But as I start taking more and more responsibilities, the more and more I learn. Luckily, I have my co-worker, John, who has been in the industry for close to 10 years. His experience has really been of help to me, as I continue to find my way through the murky waters of our company. With luck, I will learn to play the game just as good as everyone else:)
Till tomorrow...
12/18/06 - Monday: WORKING LATE...
So, I didn't leave the office until around 8:30 pm or os. Now, that in itself isn't that bad, but then you factor in my trip home, it means I didn't reach home until about 11:15... Whatever, shit happens, and when you are almost on the eve of one of the biggest releases of the 4th quarter, you gotta do what you gotta do. Hell, I am already used to that. Look at Cry The Beloved:)

So, the reason I had to stay so long was because we had to fix some last minute bugs before QA could verify everything. Speaking of QA:

RANT TIME!!!
There is seriously a disconnect between the software developers and QA. I mean, I guess it has always been like that in this field (remember, I am on my first job), but the shit has hit the fan in the past couple of days. Here's the main issue.
So, when a QA team is testing something as important as Mapquest Mobile, they should have testing plans. These are detailed documents describing an action and a result. Not very complicated. Perhaps it is time consuming to make, but then again, that is their job (among other things). So, it is quite evident that that is not what they are doing. They are sort of winging it. So, a bug that may have been in the app months ago may not be discovered until the last 2 days before the release of it, because they just forgot to test that path.
Now, someone could argue that it wouldn't be a problem if we as software developers write better code, but the fact of the matter is that there is no way you can develop something that complicated and not have bugs. I mean, that's why there is a QA team in the first place.
So, you can imagine how my co-worker and I felt after getting bugs today for something that should have been caught and fixed months ago. It all came to the fact that the QA tester wanted to try to test something that she never did before. Oh yeah, and we were under a code freeze, which meant that we were not supposed to check any new code, which may compromise the quality of the code we knew worked (besides the aforementioned bug).
I don't know... I have so much anger built up in me, and it is not healthy. So, maybe writing about it will make it easier. Or, I need to go back to the thing I wish I could do: Just not give a damn...
Till tomorrow...
12/17/06 - Sunday: AM I STILL PLAYING FINAL FANTASY XII???
Okay, this now officially sucks... I am still playing Final Fantasy XII... Hell, I'm lucky if I get 4 hours of playtime a week now... When I was a kid, I used to blow through any Final Fantasy game in 2 weeks, no problem. Of course, the only worry I had back then was... Video games... :)

But man, I am about 35 hours into it, and wondering how much more I have. I have to admit, things started off very good, but now, it seems like 2 hours could go by without any plot progression. It all comes down to one thing... 2 hour long dungeons:) Luckily, the fighting system is dynamic enough to keep my interested. There are some things I would have done different, but it is always easy to say these things when you are merely playing it, not making it...
It's sad, because I know Square looked at this like a mere experiment. More specifically, I don't think this team will be doing another Final Fantasy in the near future. The have already shown screens for Final Fantasy XIII, and it is apparent that they are going back to the standard Active Time Battle system. Oh well, it was a nice experiement while it lasted...
Till tomorrow...
12/16/06 - Saturday: I HATE SHOPPING...
Right... So, I figured something out this year... I hate doing Christmas shopping. I usually don't mind, but this year, I don't even want to be bothered:(

My girlfriend and I went to the mall today, and after 20 minutes of walking around in Target, I was ready to commit suicide. Don't know why, but I just couldn't take it anymore. I probably came off like a whining kid, with my shoulders all slumped while I walked slow as hell, but I coudln't help it...
Luckily, we agreed that I will just give her a list of what I need to get everyone and the money, and she will do the shopping for me. She of course loves everything associated with shopping, so it's win win.
Ah, the joys of getting older. I am one step from having her buy my clothes for me, and pick them out for me everyday:) Now, I don't know how much this happens, but I had an ex co-worker who experienced this. It's quite funny, actually. The inside joke around the office is that whenever someone comes in dressed in slacks and a tie (hey, we're programmers!), it means they either came from, or have a job interview to go to.
Well, one day this co-worker came up dressed pretty good, and I began proceeded to interrogate him on what time his interview was, and who it was with. Then, he said something I will never forget: "I don't have control over what I wear anymore. I lost those rights years ago. My girlfriend is in supreme control over my wardrobe". He is 37, by the way... The best part was, he wasn't joking! He then told us of how when he gets out of the shower, his clothes are already picked out for him and on his bed, ready for him to just jump into. There is no thought process whatsoever. He didn't seem to care, so he either finally submitted to her dictatorship over his clothes, or he looked at it like it was one less thing for him to worry about:)
Any readers over the age of 30, feel free to send an e-mail to gamecoder@optonline.net, to dispute the fact that this happens. I need to have hope, dammit!
Till tomorrow...
12/15/06 - Friday: PUTTING THE FACES TO THE PERSONALITIES ...
So, I worked from home today. We are coming to the end of the entire Mapquest Mobile project. There have been many lows and many highs, but after we fix another 2 priority 1 bugs, we will be done. The changes are to be released next Wednesday, barring any problems. *Crosses Fingers*.

But, enough about the thing I do during the day to pay the bills, until I get to do what I really want to do:) Something happened today which totally blew me away, and just shows how great people are, even when you haven't met them face to face...
So, around 11:00 am EST, I get an e-mail from Todd. For those that don't know, I met him last year after he initially played The Coming. He and his son, Cam, signed up to BETA test Cry The Beloved last fall. I would never know how much more they would end up meaning to me.
Throughout the highs and lows of development, they were always there, to tell me to keep my chin up and such. It turned from talk about Rose of Eternity to talks about how good Cam was doing in school. As an aside, that kid is going somewhere. I could never get such grades when I was in high school:( Anyway, back to the e-mail!
So, as some of you know, I obviously didn't make Cry The Beloved by myself. Not by a long shot! Over the course of the development, I met many people who would end up taking on various roles, such as editor, writer, design, QA, and moral support. Things went from the very ugly system of dealing with one on one e-mails, to a full fledged ROE dev forum (thanks for taking the lead in that, Amy!). So, the real interesting thing is that many of these folks were from all different parts of the world. For instance, Alistair is from Singapore, Igal is from Israel, and Oli is from Spain . Man, after a year of meeting all of these folks, the world is feeling really small now:) Okay, I'm really getting to the e-mail now!
So, I guess for some time, Todd was concocting some things behind the scenes. All I knew a month or so ago was that he a needed picture of me. Anyone who has "regular" contact with me via e-mail knows that the term, "regular" is very subjective. Point blank, I SUCK at getting back to people. Yeah, I said it... I have yet another problem... It was probably like pulling teeth to get the pic out of me, but I finally got around to it, not really knowing what I was getting into in.
Turns out, he was creating a Rose of Eternity Dev Team world map, with pics of all team members next to their respective home town. To finally see what everyone looks like is SO FREAKING AMAZING. Bunch of good looking people, if I say so myself:) As expected, my imagination of what everyone looked like was off just a little. But yeah, I can't really explain how happy I was to be able to put a face to a personality. Preston's picture is particularly funny, because it is a pic of him and Paris Hilton at E3 2006. I think she had a mobile game coming out, so she made an appearence and took pictures with people. Or, he had an interestingly little summer fling he won't admit too:)
You know, seeing this map really puts things into perspective. As I get older, I know that these will be times that I will want to look back at, so having this makes it that much more special. Todd is even sending me a huge hard copy of it. When I say huge, I mean like 36"" huge:) I already have a place on my wall all ready for it. It is also inspiring as hell, and makes me want to start work on something. I've been on hiatus for 2 months, but hell, I'm getting pretty antsy:) The only thing holding me back is the lack of one ket component in NWN2... NWN1 style cut-scenes. At this point, it's damn near impossible. But, I digress...
Todd, much, much respect to you for this. As I am always looking towards the future, I can already imagine showing my future kids this map, so they can see what their "daddy" was doing in his mid 20's:)
Till tomorrow...
12/14/06 - Thursday: NOT MUCH TODAY...
Nothing special happened today. I stayed home from work as usual, and contined to knock out bug fixes for the Mapquest Mobile project at work. As usual, not having any distractions worked in my favor, as I was able to focus on what I was doing, not worrying about stupid meetings and the such.

Heh, would be nice if I only had to come to the office when I was really needed. Heh, maybe I will mention that in my yearly review:)

Till tomorrow...
12/13/06 - Wednesday: 2 MONTHS LATER...
Okay, so here we are... 2 weeks after the initial release of Rose of Eternity - Chapter 2 - Cry The Beloved. To say that the way it is being received has blown away my own cynical expectations is an understatement.

I remember how I was feeling a couple days after the release. I was having thoughts of "Damn, why in the HELL did I spend 15 months of my life on this damn game, only to draw some votes of 4 and 5 within the first 6." I of course patched the hell out of the game, fixing the things that people were annoyed with.
The one thing that sticks out in my head is the "INFAMOUS X Marks The Spot Riddle". Man, I really dropped the ball with that one:) It just goes to show how little I really know about the community. Here I was, thinking that people will be bitching about the performance of the game, or about some weird game breaking bug. Nope... It all came down to that little "puzzle". For what it's worth, I never really intended it to be so much a puzzle, even though the majority of people approached it that way. It was really just supposed to be a way to show off my superior scripting skills!!! MUA HAHAHAHAH, err... Yeah, at any rate, I learned my lesson. Now, this riddle will go down in history with another Rose of Eternity flub, the "INFAMOUS Red Berry Quest". Man, did I catch some hell for that little quest that couldn't be finished in The Coming:) Ah well, it's all a learning process...
So yeah, 2 months later, with the game patched a few times, the reception has just been great. Shout out to everyone who has played it and voted, as well as those who have personally e-mailed me. Interestingly enough, even though the NWN community is not what it was (in terms of numbers) when I released The Coming, the stats on Cry The Beloved are superior to the former. This includes downloads, number of votes, and overall rating, as compared to the stats of The Coming after being out for 2 months. I can only wonder what those numbers would be if I had release Cry The Beloved over the summer...
Oh well, no point in looking into the past too much. I am glad I made the decision to keep pushing back the game until it was in a state I considered high quality. And, by the way things are going, it looks like I did make the right decision.
Till tomorrow...
12/12/06 - Tuesday: I OFFICIALLY HAVE A PROBLEM... PART 2...
Yes folks, I have yet another problem. I have been slipping with how often I make my updates. I will not concede, and only do a weekly one, so please bear with me.

I think today's picture is perfect. This is the typical animation for Clopon when she yells at her Guard (aka Aramus!). Well, I am trying to imagine she is yelling at me to make these damn updates every day:) Heh, maybe it will work...

Till tomorrow...

EDIT - This is being written 12/18, and I cannot remember what I did last Tuesday...
12/11/06 - Monday: I OFFICIALLY HAVE A PROBLEM...
Yes folks, I have a serious issue. I lurk at forums way too much. It's quite sickening. I mean, it made sense while I was developing Cry The Beloved, as I always like to know what is going on and whatnot, but now that I have all this free time, what do I do??? The same damn thing...

I mean, to give myself some credit, I don't do it everyday, but when I do do it, it's all over... Forget any plans I had... Forget getting to sleep at a normal hour. It seems I am still in the same rountine for the past 15 months, and it won't be as easy to break out of. My plan for tomorrow night is to go home, and stay off the laptop, except to answer questions at the download pages for my games as well as various e-mals. Wish me luck:)

Till tomorrow...
12/10/06 - Sunday: THE NY GIANTS ACTUALLY WIN A GAME THEY WERE SUPPOSED TO...
Well, my day couldn't have been that bad, considering the NY Giants won today. Yeah, they were playing a Caroline Panthers team that didn't have their starting quarterback, but dammit, these are the games they are supposed to win, and every once in a while, they just don't. This was not the case today, which made me very happy, to say the least.

Besides watching football, I also was working on a new project of mine. I had ideas for it for a while, but for some reason, I just got really inspired, and decided to take a crack at it. I cannot divulge the details right now, but this should tide me over for a week or so.

Till tomorrow...
12/09/06 - Saturday: DIAMONDS FROM SIERRA LEONE...
Anyone who is a fan of Kanye West should remember the hit single, "Diamonds From Sierra Leone", from his smash sophmore album, The Late Registration. The song used to be called "Diamonds Are Forever". It was called this because his label, Rocafella uses a diamond sign to represent itself. If you ever see any concert done by Jay-Z or the like from that label, you will see them and the fans flashing diamonds signs with their hands.

Anyway, at some point before he actually released the album, it came to his attention from someone in the industry (Talib Kweli?) about the illegal diamond trade in Africa, and more specifically, Sierra Leone.
For those that don't know, in the 90's, the country was engulfed in civil war over the trade of diamonds, better know as "Conflict Diamonds" or "Blood Diamonds". Countries like the U.S.A. were shelling out TONS of money for all sorts of diamonds, and since it was a very profitable business, people in the country were willing to basically kill each other over them. Now, that is just the gist of things, and I am leaving a lot out, so if you want to know more, do a search for "Blood Diamonds" or "Sierra Leona" at Wikipedia.com. I'm sure the boys over there have something written up about it... Anyway, after he (Kanye West) learned about all of this, he changed the song, made a pretty good video for it over in Prague, and started preaching to people about how they should never buy conflict, or blood diamonds.
Fast forward a year, and a new movie about the subject is released, starring Leonardo DiCaprio (Titantic, Gangs Of New York, The Aviator, etc), Djimon Housou (Amistad, Gladiator, etc.), and Jennifer Connoly (A Beautiful Mind). Simply named "Blood Diamond", when I saw the preview, I knew I had to see it, since I knew all about it. It did not disappoint at all, let me tell you. Everyone played their parrts perfectly, and it was very, very moving. One part I am happy about is the fact that they didn't try to shield some of the more greusome things that happenend to people there, such as kids having their hands chopped off. All in all, it was a very good movie, and I think Leo and Djimon should be nominated for Oscars for their roles in the film.
Till tomorrow...
12/08/06 - Friday: THE AFTERMATH...
So, after the night I had last night, I expected to have some sort of morning sickness. Luckily, I woke up very, very refreshed, and ready to start the day. Since I live so far away and whatnot, and I didn't get in until 1:30 - 2:00 am, I was able to stay home.

While home, I did what I have been doing the past month. Fixed Mapquest Mobile bugs. I am definitely coming to the edge of my sanity again, and I really can't wait until it is over...

Till tomorrow...
12/07/06 - Thursday: COMPANY PARTY...
So, tonight, I attended my company's yearly holiday party. Yep, I'm living the stereotypical life of someone who works in an office...

Nothing much to report, really? I had tons of fun, the food was great, and the best part was, I didn't have to drive:)

Interestingly enough, I didn't want to go at first, but then gave in, and definitely had a great time. Also, since I live so far away, it was understood that I wouldn't make it to work tomorrow:) Sweet!

Till tomorrow...
12/06/06 - Wednesday: SO MUCH TIME...
So, I have to admit, it really has been great to be free for the past month or so (actually, closer to 2 months). I of course have my daily brainstorm sessions while on the train while listening to music, but besides that, my life has been more or less ROE free, which is a good thing for the time being. Well, almost ROE free...

I have been getting swamped with e-mails from people who are not able to play The Coming, because they have the wrong version of the CEP. CEP 2.0 has been released, but my games use CEP 1.53, or lower... I haven't come up with a solution yet, but it looks like I may have to upgrade... Damn you CEP!

Till tomorrow...
12/05/06 - Tuesday: CUTSCENES IN NEVERWINETR NIGHTS 2
| | |
| --- | --- |
| | Before I get into the topic of the day, I just have to point out something quite funny. So yesterday, I was talking about how the developers on the EA forums do not respond to much of any of the threads there, because they know it is a small % of people, and it isn't going to affect their sales, overall. Well, I was on the NWN2 forums, and someone was complaining about the lack of dev response, and someone pointed out that "At least it's better than EA. They never respond to anyone over there. I just don't think they care". It was just really funny to read that, after what I wrote yesterday... |
So, it has come to my attention that the cut-scene system in NWN2 is not currently as robust as it is in NWN1. Apparantly, there are 2 types of cut-scene systems you can use. There is the new NWN2 system, which uses static cameras that can allow switching back and forth between 2 objects with ease. For anyone who has played NWN2, these are the type of cut-scenes that show close ups of the obejcts involved, while they are talking, in letterbox form. Now, these are all well and good for those types of cut-scenes, but what about the ones I like to use, like the intro of a new area, where the camera pans/spins around the area? I guess it isn't as easy to actually rotate the camera (assumably by calling SetCameraFacing) while in this mode.... Yeah, that sucks... At the very least, at least you can decide if it will be in Letterbox form or not...
Then, there is the NWN1 system. So, I guess everything still works fine with this system, except the fact that you cannot put the screen into cut-scene mode, hiding the GUI's, mini-map, etc. Now, I haven't verified this, but if this is so, then folks, we have a problem... I would never, repeat, NEVER have a cut-scene running where part of the GUI was showing. That would dramatically lower the level of presentation I try to get in my games. Well anyway, I am sure the problem will be resolved. Just have to improvise...
So, on the music front, nothing new really. Alistair pointed me to a new website that has remixes of a lot of Chrono Trigger music, so I will be downloading all of that, and checking it out. I do have to put out another plea to people to help me find the soundtrack to Battle Arena Toshiden 1, which was released on the Playstation 1 back in 1995. I currently have all the music for Battle Arena Toshiden 2, and though it really wouldn't fit with Rose of Eternity, I want to use it so damn bad! I don't know how to describe it really... It sort of reminds me of the music I would hear in a Mega Man game, meaning that damn near all of it is great. It's just so damn catchy, it is unbelievable. It's too bad the series hasn't aged well. Anyone who was into fighting games and got a PS1 when they first came out should remember this game. It was the first 3D fighter for it, and at the time, the graphics were simply amazing.
I can vividly remember seeing it for the first time. The co-writer of Rose of Eternity, Brian Rhodes was one of those guys that always had everything the day it came out. So of course, he swindled his mother into getting him the PS1 the day it launched, which was a date I'll never forget (9/9/95). Anyway, we were at another one of my best friend's house when he got it. Unfortunately, the TV at that house was old school, and didn't have the AV cables needed to hook the PS1 to the TV. Apparantly, the old RF switch from the NES/SNES days were over... Anyway, at this point, we promptly got a ride back to my house, to hook it up on my TV. I don't think he got any games, but it did come with a demo disk with a bunch of games, and Toshiden was included on it. Let me tell you, when I saw all those polygons in all of their 32 bit glory, I screamed like a little girl (no offense to any little girls reading this:) ). I remember my father running upstairs and asking what the hell the commotion was, and when he saw my TV, all he could say was "...Damn...". Even he was amazed... Thus started my foray into 3D gaming... But, that is another long ass story for another time...
Till tomorrow...
12/04/06 - Monday: IS IT WORTH IT?
So, you have just bought a game, and a feature that you would have liked to have in the game is not in it. Is it worth it to go to some forum where devs sometimes post, and demand that they do something about it? Are you really going to get anywhere? Well, apparantly, on the NWN2 forums, some people do...

Now, some people post in a mature way, are respectable, etc. Others insist that whoever worked on the game should be fired, taken out to the back of the company, and shot... This is how mad they are.
Then you simply get the people who are mad that devs don't reply to their thread. All in all, it was a scary sight, and I for one (as a developer) would never want to go through that. Now, of course, the majority of complaints are from people who are having performance issues, and they are mostly legitimate issues. Some people will immediately flame them for not being computer savy enough, or for not understanding that "Neverwinter Nights 1 also shipped with issues". Yeah, I don't know about that one. If I never played NWN1, and came straight to NWN2, I wouldn't want to hear that sh** :)
Anyway, forums will be forums, people will complain, etc, etc, etc. But, back to my question: Is it worth it? Well, after some research on my end, I am not so sure about it...
So, after the success of Rose of Eternity - Chapter 1 - The Coming, I made various contacts in the industry, and one in particular used to be a designer/producer at EA. I obviously cannot give out names, because of what I am about to say... So, he told me that EA sells about 5 million copies of Madden every year. On their main forums, they get thousands of pieces of hate e-mails for the first couple of month of every new release. You know what they do? Not a damn thing, according to him:) He says they are pretty strict on the statistics of everything related to Madden, and when it comes down to it, only a miniscule % of people who buy the game go to the forums. Of that %, a small % of people actually take the time to complain, write petitions, etc.
Now, they do read some of the well written posts, but the ones from people who are demanding things, they just laugh at them, and move on, which is what I expect the people at Obsidian are doing. Now, of course they will try to keep the public perception that they care about what people say, and I am sure they do, when it is well written posts about valid issues.
Is it fair? Who knows... On one side, the person did pay for the game, but on the other end, just because they spent $50 doesn't mean they are now on the board of directors, where they can demand features that should be put int:)
Oh well... Just my random thoughts for the day... My next project is to try to find some numbers regarding the real amount of people who play on PW's. I have heard rumors that Bioware put up numbers somewhere which proved that it really is a small % (which I expected), but I have not been able to find this. Yeah, I know, I'm a statistic whore, but the more you know about the community, the better you can market your games:) If I had time, I would love to develop a PW based on the Rose of Eternity world. Probably would never get to it, but I can always dream...
Till tomorrow...
EDIT - A weird little tidbit. Apparantly, even a few years after he dies (God forbid), EA will still have the rights to use John Madden as the title. Apparantly though, they have been slowly trying to faze it out anyway, since they are really starting to focus on the players that are on the box for that year, and less on Madden. Also, I guess Madden is quite annoying to work with in the Sound Booth, which is another reason they want to distance themselves from him. Man, I'm such the gossip!
12/03/06 - Sunday: GEORGE LUCAS, I FEEL YOUR PAIN!!!
So, yesterday, I talked about all the hate on the internet, and more specifically, about the hate on Star Wars... So, I guess one of the main things people are mad at him about is that he has really made a lot of changes to the original trilogy of movies, so that he can really bring his original vision to life.

Interestingly enough, I am in the same situation. I have said it time and time again, but the Rose of Eternity people have played is not my true vision. I just made due with the tools I had to get it as close as I could. But, I was never really happy about it....
Now, here's the issue. People get used to playing something, and really feel like they have invested time in it (so I have heard:) ). Now, if you start toying with what they are used to, it pisses them off. So, as I flirt with the idea of re-doing the series for NWN2, I am already thinking about how to make the first 2 games closer to my original design. Full party member control is the most obvious change, and this will dramatically change the way the game is played. Whereas I balanced the games before knowing you could only control Aramus, I will now balance them so that you have to make use of every controllable party member. It's a design decision I am going to stick by, and to ward off people who like their combat simple, I will most likely market the game as such. It's not a numbers/ratings game anymore. I have my fanbase, and I am dedicated to them now... At least for this series... *looks both ways*
So the question is, do I have the right to do this? I mean, it is my game, and my idea, and my story, etc. It would make sense that it is my right. I'm sure others will think the opposite. It's really a fine line I will have to walk.
Another thing people yell at him for is the fact that they think he was making the story up as he went along. Especially when it comes to possible plot holes between the original trilogy, and the prequels. He keeps telling people (from what I understand) that he always had an idea of what he wanted... Like, he claims he always knew the Stormtroopers were Clones from the Clone Wars of the prequels. Whatever... Point is, again, I feel his pain, as I do the same thing. I have always had the main story in my head, what will happen at the very end and whatnot, yet half of the things people have played were things I made up as I created the game. I guess some people couldn't work with him because of this, which I totally understand, but at the same time, being someone who is inspired by the weirdest things at the weirdest times, I understand why he does what he does the way he does it. I mean, for what it's worth, it worked out okay (IMHO anyway).
And for the record, my style of dynamic game design has bitten me in the ass more than once. Jason fought with me several times to clean up various inconsistencies in the story before I released the game. It's so hard, especially when I come up with some new story idea when you are 90% done, to make sure that it fits within a game. I guess if you design like that, you need someone like him backing you up...
Till tomorrow...
12/02/06 - Saturday: WHY IS THERE SO MUCH DAMN HATE???
Seriously, this sh** is getting out of hand:) There is so much hate on the internet, it's just plain ridiculous now...

So, for whatever reason, Wikipedia is my new friend. Seriously, anytime I want to know TONS of information about anything, I can go to that page. Well, Saturday night, before going to sleep, I was watching Star Wars. Not really watching it, but it was on while I was doing some other things. Cinemax has been running it for the past month, and since I have like 8 Cinemax stations, the chance of one of the 6 episodes being on is high.

Anyway, I figured, let me look up Star Wars, to see what I find...
What let me tell you, I found a TON of info I never even knew, but I also started reading about all the hate associated with it, and in particular, George Lucas himself. Now, I consider myself a pretty big Star Wars fan, going to see Episode I-III on opening nights and such, but damn, I am nothing compared to these other fans, who make it their mission (no, seriously) to tear apart the prequel movies, as well as the changes he made to the original in the Special Editions.
Actually, now that I think about it, I really couldn't be that hardcore, since I never knew about, what people call, Han Shot First! *Shrug*... I guess in the unmolested (their words, not mine!) version of Episode IV, Han Solo shoots Greeco first, but in the Special Editions, George Lucas changed it so that Greeco shot first, to make Han Solo seem less cold hearted... Whatever... Interestingly enogh, I was just watching it earlier in the week, and when I saw the scene, I thought it was weird that I saw a laser go from Greeco's blaster first. It just didn't seem like it fit the scene, almost as if it was added later, and my suspicions turned out right, not that I really care either way...
So then, I come across some site called, HanShotFirst.org, where there essentially just talk sh** about George Lucas and rant and rave and whatnot. I really, really had no idea there was this much hate out there for Star Wars... I mean, I knew the general feelings of how people were disappointed with the prequel and what not, but I didn't know it was to this degree...
Till tomorrow...
Edit - Came across this link in someone's sig. It essentially sums up what I feel:)
P.S. And people, please save the "People have a right to say what they want, dammit!!!!!" emails:) I am well aware of that... This topic is basically me talking about how I *never* knew about the hate at the degree it has come to...
12/01/06 - Friday: LADIES AND GENTLE, OLI FERRANDO IS ON FIRE!!!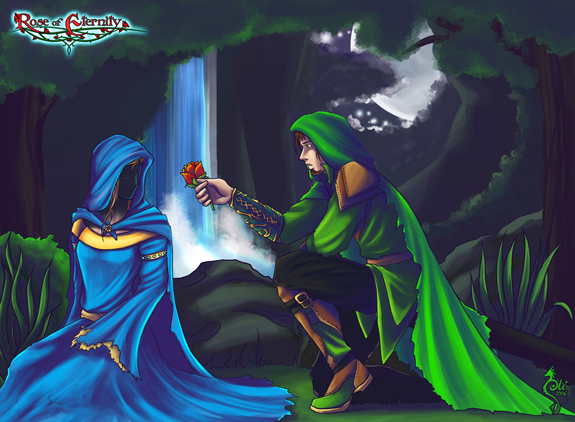 I mean, should I even be surprised anymore? This is just absolutely ridiculous at this point. I think her new nickname should be "The Machine", because that is how she knocks out these pieces of Art. And, I mean that in the truest sense of the word (Art).
So, after I released Cry The Beloved, Oli and I were talking about new portraits she could do, and then she had the idea to do some scenes from the games themselves. I obviously thought it was a great idea, and gave her my blessing. She then showed me a lot of new pieces (I posted them back in October over 5 days or so), and I could see the subtle changes in the style. Well, last week (I think), she posted at the ROE forums a preliminary version of this piece, and I was starting to get excited. Then, a few days ago, she posts the finished version, and I was just flabbergasted. I old wallpaper on my desktop was the portrait of Aramus. It is now this piece, which we will just simply call, The Flower...
Now, it should go without saying that this piece is depicting the scene in The Coming, where Aramus gives Clopon a flower soon after they enter North Shinkara Forest for the first time. Interestingly enough, I just got to this part in the game (I am replaying the series on the train, for fun). She really has captured the essence of the scene. Most notable is the inclusion of an actual background. See that waterfall? Yep, that was there, in the game.
Oh, and you see that little green dragon in the bottom right corner? Yeah, that's to keep you artist thieves away (you know who you are!). So, don't even try it... Or, it could just be her signature:)
So, I am not going to lie at all... Seeing this inspired the HELL out of me. You know, I usually say that music is very inspriring, but little by little, pieces of art like this are climbing up the "inspiration providing charts", if you will. Hell, after seeing this, I was ready to crack open to NWN2 toolset, and finish my attempts at porting the entire ability of Illuminate (Sword of Galladoran, scripts, ect.). Then, the smarter half of my brain told my impulsive side that I am still recovering from the past 30 months:) However, it didn't stop me from doing my daily "mental brainstorm" (i.e. I don't write anything down).
In terms of general flow, the first half of the game is pretty much designed (though I am sure it will change many times!). To be honest, I haven't been that active with talking to others about it, and here is the reason why. Once I begin the process of development with others, there is a responsibility for me to stay active, and at this point, I don't have the time. And, that wouldn't be fair to anyone I would be working with. So, for now, I will continue to enjoy my retirement, and continue with my mental brainstorms, until I am ready to be doing it full fledged again.
Till tomorrow..